Utilise change!
Business development unites the perspectives of an enterprise E1 (PE1 1-n) with those of potential customers (PC 1-n). Where these perspectives intersect, there is an area which provides scope for creating added value (I). The task that business development fulfils is to develop this scope, or to maximise it by modifying business practices, for one or more enterprises (E1, E2, E3...). This is achieved by considering region-specific knowledge about market development, about the market players and about technical progress, all while taking overall societal trends and developments into account and, as necessary, involved stakeholders (S). The business development manager must be able to identify potential for creating added value and contribute to developing it.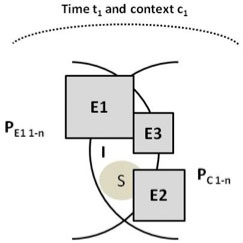 What does business development mean?

The term "business development" is a fairly recent addition to the German vocabulary, but its meaning is not precisely defined. Our understanding of business development is as follows:
Taking an all-encompassing view of an enterprise,
Analysing all relevant circumstances (360° analysis)
Coordinating and achieving the enterprise's potential for creating added value
by means of
an appropriate strategic direction,
performance-related, process-related and organisational adjustments,
and sales measures.
This process should be performed from the perspective of an entrepreneur with a sustainable approach to business management. At the same time, however, the activities should be tailored to the desires and needs of potential customers and the target groups involved – all while taking a given context and period of time into consideration. So as you can see, this set of requirements unites both hard and soft factors. The business development manager unites different perspectives (e.g. department-specific) of an enterprise with:
the market development
the perspectives of potential customers
the perspectives of further given stakeholders (participation!).
Customer perspectives are particularly important to us in this regard. After all, it is often said that "markets are people". We live in a world where, with the exception of the occasional powerful innovation, it is often only the fine-tuning of partially subliminal values that makes the difference in deciding whether enterprises and products are successful or unsuccessful. This fine-tuning can only take place when potential customers and users are involved.

As drastic as it may sound, emotions are what allow us to create added value in our society and especially in the automotive and luxury industries. Even in the energy sector, emotions (e.g. regarding familiar supply companies or specific technologies) can influence purchase decisions. The current developments and requirements for action in the energy sector mean that it is crucial to understand customer needs.

You should therefore view your customer as a partner and their world of experience as the inspiration for your innovations. Incorporate soft reality into your decisions.